Bathroom Remodeling To Upgrade Your Sonoma County Home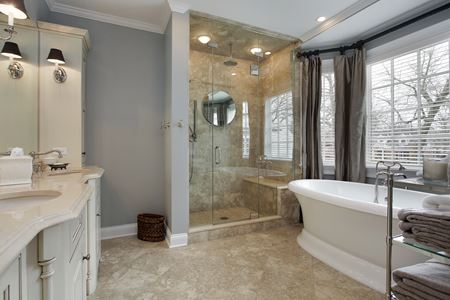 Has the time come to upgrade your Santa Rosa bathroom to something more comfortable and stylish? Then the bathroom remodeling experts at Monument Home Services, Inc. are here for you! We're the company people rely on when they want a dependable remodeling contractor for Santa Rosa, and our dedication to high-quality results is unmatched.
Many people fall out of love with their bathroom or have always planned to change things up when the time is right. Whatever the reasons, it's completely understandable to want a bathroom remodeling eventually, considering we all have to spend so much time in there. If your bathroom has been giving you the blues lately, there may be no better time than now to have it updated and meet your own personal sense of style. Monument Home Services, Inc. is the experienced, dependable remodeling contractor you can rely on for a complete overhaul of your bathroom and entire home! If you need high-quality craftsmanship that will match your vision and withstand the test of time, you don't have to look any further than us!
Just because your bathroom isn't all you hoped it would be doesn't mean it needs to stay that way. Speak to one of our bathroom remodeling specialists in Santa Rosa and ask for a free consultation today by giving us a call.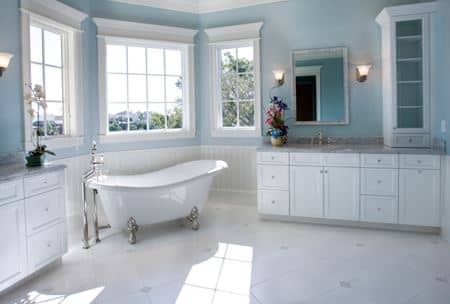 Bathroom Design
The most important part of any remodeling project is the design. A great design can mean the difference between a new bathroom that is attractive and comfortable and one that is problematic, frustrating, and uninviting. At Monument Home Services, Inc., our professional Santa Rosa remodeling contractors […]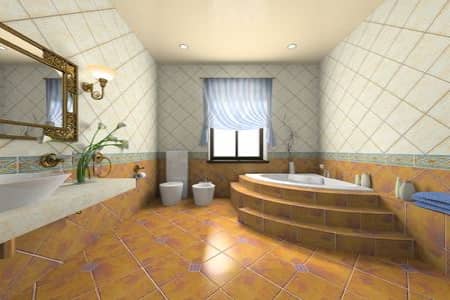 Bathroom Tiles
A new bathroom tile installation can improve the appearance of your bathroom, make it more comfortable, and—as long as you hire a Santa Rosa remodeling contractor who can provide you with great design and excellent craftsmanship—could even increase your home's resale value. Bathroom remodeling is one […]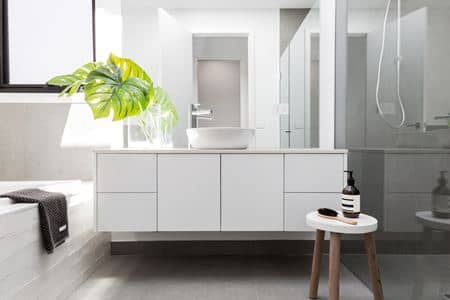 Bathroom Vanities
A great bathroom vanity will help you improve your bathroom's appearance, its functionality, and the level of comfort that the room can provide you with. All of those are very important parts of a great bathroom, so a well-designed and professionally installed new bathroom vanity can […]
Bathroom Design & Build Contractor
As Santa Rosa's trusted bathroom design and build contractor, Monument Home Services, Inc. specializes in transforming outdated and lackluster bathrooms into stunning and functional spaces that exceed our clients' expectations. With our expertise in both design and construction, we offer a comprehensive range of services to suit every need and budget, including carpentry. Our skilled team of professionals works closely with clients to understand their vision and goals, ensuring that every aspect of the bathroom renovation aligns with their unique style and preferences.
From conceptualizing innovative designs to selecting high-quality materials and executing flawless installations, we are committed to delivering exceptional craftsmanship and attention to detail. Whether it's a small powder room or a luxurious master bath, we strive to create personalized sanctuaries that enhance both the beauty and functionality of our clients' homes. Trust us to bring your dream bathroom to life with our unparalleled expertise and unwavering commitment to excellence.
Bath Tile & Vanities
Monument Home Services, Inc. can also provide you with bath tile services to give your bathroom some extra style. Our team has extensive experience in working with a wide range of tile materials, patterns, and designs, allowing us to bring your vision to life with precision and artistry. From sleek and modern porcelain tiles to timeless and elegant marble, we offer an extensive selection of high-quality options to suit every style and preference.
We aslo understand the importance of choosing the perfect vanity that not only complements the tile but also provides ample storage and practicality. Our experts will guide you through the process, helping you select the ideal vanity that matches your taste and meets your specific needs. With our meticulous attention to detail and commitment to delivering exceptional results, we ensure that every bath tile and vanity installation is executed to perfection, transforming your bathroom into a luxurious and inviting retreat.
Our Sonoma County Bathroom Remodeling Services
Bathroom Design
Bathroom Remodel
Cabinet Installation
Bathroom Cabinets
Bathroom Lighting
Bathroom Vanity
Bathroom Countertops
Custom Showers
Bathroom Plumbing
Bathroom Remodeling
Bathroom Fixtures
Why Sonoma County Should Hire Us For Bathroom Remodeling
As a professional remodeling contractor in Sonoma County, we work closely with you to make certain that your remodeling and home improvement turns out exactly how you wanted it to. Our employees are expert contractors who have years of experience providing custom home remodeling services to California residents. You can depend on the skilled contractors at Monument Home Service, Inc. to provide you with top-notch craftsmanship and quality products.
View Completed Bathroom Remodeling Projects in Sonoma County
Recent Articles About Bathroom Remodeling