Bathroom Vanities in Santa Rosa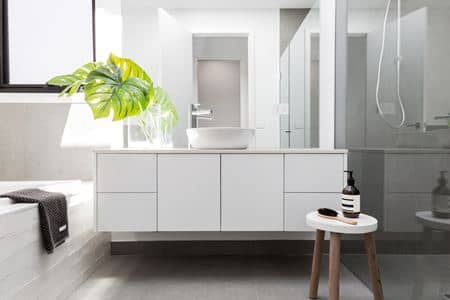 A great bathroom vanity will help you improve your bathroom's appearance, its functionality, and the level of comfort that the room can provide you with. All of those are very important parts of a great bathroom, so a well-designed and professionally installed new bathroom vanity can markedly improve your home's bathroom. Our professional remodeling contractors can custom design your new bathroom vanity and make sure that it's perfect for your home and your family.
Our professional Santa Rosa remodeling contractors have been providing high end remodeling services to homeowners in the area since 2003, and we can add you to a long list of satisfied customers by installing your new bathroom vanity as a stand-alone service or as part of a larger bathroom remodeling project.
We'll do whatever it takes to make sure that you're totally satisfied with all of the work we provide.
Bathroom Vanity Design
A vanity is a very important component of a bathroom's design. Bathroom vanities can make the space feel more modern and contemporary, or more quaint and old fashioned, depending on the design. They also add to your bathroom's functionality, since they're where you and your family will shave, brush your teeth, wash your face, or blow-dry your hair. The vanity needs to have enough counter space to ensure that it's comfortable to use, but it shouldn't take away too much of your floor space.
When you're installing a new vanity in your Santa Rosa home's bathroom, the professionals at Monument Home Services can help you with every aspect of the design. We'll make sure that your bathroom vanity is perfect you and for your home, and we'll guarantee your satisfaction with all of our work.
We can take care of any necessary plumbing adjustments, and we can help you select the materials you'd like to use for the construction. We'll handle the entire project from the design and planning stages through to end of the construction.
Types of Bathroom Vanities
Vanities are the central focal point of a bathroom, so no matter what style or decorating these your bathroom has, you need to be able to find a bathroom vanity that can match it.
The most popular choice for counter top materials for vanities is either stone or marble. Both of these are not only durable, but they're also perfectly suited to many different design styles. Traditional bathrooms can benefit from simple vanities with features that are not complicated or complex, while a luxury bathroom might need an innovative vanity design with materials like copper, glass, or natural stone.
Our remodeling contractors will work with you to decide on the specifications of your bathroom vanity and help you design and install a vanity that is perfect for your Santa Rosa home.
Our Sonoma County Bathroom Vanity Services
Bathroom Vanities
Bathroom Remodel
Bathroom Vanity
Bathroom Vanity Ideas
Bathroom Remodeling
Bathroom Design
Santa Rosa Bathroom Vanities
Bathroom Vanity Design
Bathroom Design
Bath Vanity Ideas
Bathroom Vanities Ideas
Bathroom Vanities in Santa Rosa
View Completed Bathroom Vanity Projects in Sonoma County
Recent Articles About Bathroom Vanities