Bathroom Tiles in Santa Rosa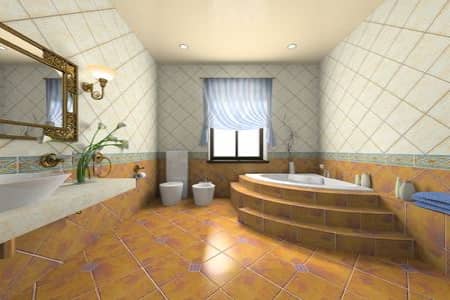 A new bathroom tile installation can improve the appearance of your bathroom, make it more comfortable, and—as long as you hire a Santa Rosa remodeling contractor who can provide you with great design and excellent craftsmanship—could even increase your home's resale value.
Bathroom remodeling is one of the best home improvement projects there is in terms of return-on-investment, and at Monument Home Services, Inc., our professionals can provide you with high quality bathroom tiles that can help guarantee the best possible outcome to your bathroom remodel. These new tiles can completely transform the look and feel of your Santa Rosa home's bathroom, and we can guarantee your complete satisfaction with the results.
We'll work with you directly to design your bathroom installation project so that we can guarantee the tiles are perfect for your home, your tastes, and your family. We can also repair any tiles in your bathroom, and we offer a wide range of different kinds of tiles, including:
Porcelain Tile
Glass Tile
Stone Tile
Ceramic Tile
And More
Call us today to begin your bathroom tile project, and we'll be looking forward to working with you.
Tile Flooring Installation
When you're looking for attractive, practical bathroom flooring with nearly limitless options, tile flooring is probably your best choice. Tile floors are a great option for bathrooms, and because there are so many different options available, you'll always be able to find the perfect tiles for your Santa Rosa home. Our professionals can provide you with colored grout, hand-painted accents, or any other features you're looking for to improve your tiles' designs.
Tile flooring is also extremely resistant to moisture damage, which is another reason it's a great option for bathrooms. It will prevent mold and mildew growth, which can often be a major problem for bathroom floors, and can damage them beyond repair. Tile is extremely durable, and if it does happen to crack, replacing single tiles is never difficult or expensive.
Wall and Shower Tiles
Our contractors can tile your entire shower, baths, floors, and walls. Shower and wall tiles are a great way to bring an integral design to a bathroom, and we can install tiles here as a stand-alone services or as part of a larger bathroom remodeling project. We'll be able to recommend the best kinds of tile for your bathroom, and we can make sure that they're a perfect match for your home's decor, your budget, and your tastes.
Whether it's for a single bathroom or for each of the bathrooms in your Santa Rosa home, our contractors can install custom tiles and create a more beautiful and more comfortable living space for you and your family.
Our Sonoma County Bathroom Tiles Services
Bathroom Tiles
Bathroom Remodel
Bathroom Tile Ideas
Bathroom Tile Designs
Tile Flooring
Bathroom Tile
Bathroom Cabinets
Santa Rosa Bathroom Tiles
Bathroom Design
Tile Flooring
Bathroom Tile Ideas
Bathroom Tiles in Santa Rosa
View Completed Bathroom Tiles Projects in Sonoma County
Recent Articles About Bathroom Tiles