Bathroom Design in Santa Rosa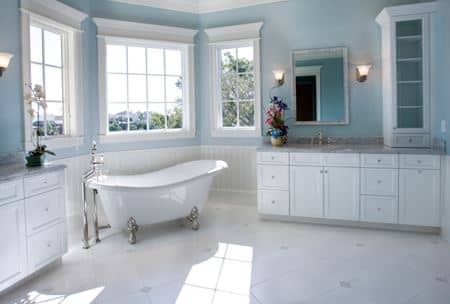 The most important part of any remodeling project is the design. A great design can mean the difference between a new bathroom that is attractive and comfortable and one that is problematic, frustrating, and uninviting. At Monument Home Services, Inc., our professional Santa Rosa remodeling contractors are dedicated to providing our clients with excellent bathroom designs so that we can provide them with great bathroom remodeling services that can improve the overall comfort of their homes.
Our remodeling contractors are all licensed and professionally trained, so we can always guarantee that you'll be totally satisfied with all of the work that we provide. We'll start the project by working with you to determine your precise goals for this project, then we'll design a remodeling project that meets those goals and it perfect for your home, your budget and your time-frame. We know how important a bathroom remodeling project can be to your home, so we always provide our clients with quality workmanship and excellent customer service.
Give us a call today to start working on your bathroom design, and we'll be looking forward to working with you.
Bathroom Design Consultations
The first thing that our professionals will do when we're hired for a bathroom remodeling project is set up a consultation with you. We know that while we may be bathroom remodeling experts, you're the only expert there is when it comes to your Santa Rosa home, so when we're working on the bathroom design, your input is invaluable to us. We'll help you outline the goals that you have for the project and come up with the best ways to meet those goals while staying on budget.
Whether you'd like to create a brand new, modern bathroom or you'd like to keep the charm and appeal of your older bathroom while upgrading some of its features, our contractors will help you create the perfect bathroom design for your home and your personal tastes. And no matter what, we'll make sure that your bathroom is comfortable and attractive.
Our Bathroom Design Specialists
Since 2003, Monument Home Services, Inc. has been providing high end remodeling and design services to homeowners in the Santa Rosa area,and the great reputation we've developed in that time has been built on our dedication to quality service. We work directly with all of our clients to provide bathroom designs that we can guarantee they'll be totally satisfied with. Before we begin any construction work, we'll make sure that you're completely happy with the design.
We can help you select environmentally friendly options for your bathroom, help you plan your budget for the project, and no matter how big or small the project is, help you design a great bathroom for your home.
Our Sonoma County Bathroom Design Services
Bathroom Design
Bathroom Remodel
Cabinet Installation
Bathroom Cabinets
Bathroom Lighting
Bathroom Vanity
Bathroom Countertops
Custom Showers
Bathroom Plumbing
Bathroom Design Ideas
Bathroom Fixtures
View Completed Bathroom Design Projects in Sonoma County
Recent Articles About Bathroom Design