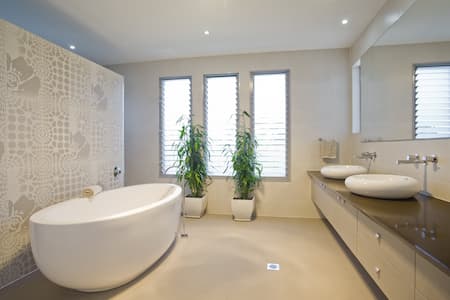 When you are looking to have the bathroom of your home undergo a remodeling project, one of the first hurdles you are going to have to jump over is the design. If you talk to any homeowner who has ever tried to do a bathroom construction project without professional help, you'll likely run into one common sentiment again and again: wishing that they had hired a designer to help with the project. Residential designers can help bring a wealth of knowledge and skills to your bathroom remodeling project to make sure that all aspects of the remodeling go as smoothly as all possible.
Even with the smallest of projects, once you tear up that bath floor or open up that wall, there are numerous different situations that can arise which can threaten your entire bathroom remodeling project if you don't have an experienced professional on hand who can apply their professional problem solving to help you save time and money. When you are looking at having the bathroom on your Santa Rosa home remodeled, there are a number of good reasons to hire a professional designer to help with your job, and we've taken the time to put some of the more important reasons into a short list for your convenience.
Save Yourself Time
As with any remodeling project, there are a large number of different structural choices to be made when it comes to remodeling a bathroom that can have a large impact on the installation of your new bathroom elements. The same can also be said for the wide array of different materials out there for you to choose from. Figuring out those aspects on your own can be time consuming to the extreme. Having a skilled professional on hand to help you with these decisions and who can provide you with information on all the different choices available to you and how they will enhance or impact your overall design can wind up saving you a lot of time in the end and, potentially, a lot of money as well.
Project Expertise
The most basic function of a bathroom remodeling designer is to help interpret your needs and come up with a plan to incorporate them into the final building plan. Although this might be one of the only reasons you hire a designer to help with your bathroom remodeling project, they can also provide you with a wide variety of other services to make sure your remodeling project goes smoothly. Designers can help you ensure that your project stays on budget by proposing different options in materials, making sure your project is designed in a way that will let it stay up to code, and can even recommend subcontractors if needed.
They Speak The Language
Because so much information on your bathroom remodeling project is communicated on paper through drawings, there are a number of different ways your plans can be interpreted. This can be especially prevalent if your contractor isn't familiar with a certain aspect of your design, or if your contractor is busy and hasn't had the time they needed to pore over your design. When this happens, certain elements or small details of your design can fall through the cracks, leading to the potential for massive disappointment when the project comes to a finish. A professional bathroom remodeling designer knows how to stay on top of these kinds of issues, however, and can help ensure that everything with your bathroom design is carried out like you wanted it to be, and that nothing falls through the cracks.