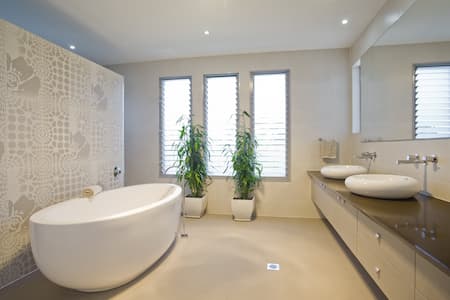 One of the best projects that you can decide to take on is remodeling your bathroom. However, as with any home improvement project for your Santa Rosa homestead, it is about making wise choices. The last thing that you want to do is end up making poor decisions about a project like this.
Make it a point to work with a reputable remodeling professional, so that you can get important feedback and advice. However, also take the initiative to learn what you can about how to make this project a success so you can be certain that you will be satisfied with the final results.
At the end of the day, this is your bathroom and your home and you need to be certain that you will be happy with the final results. Of course, designing the perfect bathroom is about more than just good looks. However, once the job is complete, you should be able to feel as though you have replaced your strictly utilitarian lavatory with something that feels more like a luxury spa. In order to make the most of your plans for bathroom renovations, here are some important tips and tricks of the trade to learn about.
What You Need to Know
Creating the perfect bathroom is not as cut and dry as you make think. Even though you will have a professional to take care of your service needs, such as carrying out the actual design and labor. However, as you start planning, here are some key factors to keep in mind:
While function is not the only thing to think about, you should think function first. Whether you realize it or not, your bathroom is one of the hardest working rooms in your home. Aside from your kitchen, this is the only other room that is basically a work station. While the kitchen is about being able to prepare food, a bathroom is for preparing for a busy day, or unwinding and recovering from one.
Be realistic about what you want. In other words, renovations are different from basically building a whole new bathroom. If you need to move plumbing or enlarge your powder room, this is a whole different task than changing the flooring and upgrading the shower. Both options are possible, but the time, finances and even permits required can change vastly, accordingly.
Don't ignore the need for storage. Designing a bathroom worthy of a photo shoot for a magazine spread still leaves much to be desired, if you neglect to think of details like storage. A common mistake homeowners make is increasing the size of their bathroom, while diminishing the size of their storage space.
Don't ignore the need for adequate bath lighting. Too often, designers work in better use of natural lighting so a homeowner fails to include enough artificial lighting. You have to think about overcast days, nighttime and the need for better lighting for tasks like shaving and applying makeup. While natural lighting is unsurpassed in beauty, it is not always sufficient enough to get the job done.
Mix the appropriate amount of soft edges with hard lines. Yet, also make it a point to implement angular into an overly curvy space. Creating the perfect look and feel for your bathroom is about having the right balance of both elements. The professional you work with should be able to help you with this, but make it a point to already be planning this out in your head.
Partnering With the Right Experts
For the best in success with your Santa Rosa bathroom remodeling project, make it a point to call on Monument Home Services. Founded in 2003, we have been the local leading service provider and maintained our impeccable reputation. Don't just take on a bathroom remodeling project, plan to have long term success with a brand new washroom.
Our top priority is being able to meet and exceed the needs of our customers. We take great pride in the work that we do and that is evident from the results that we are able to get, each and every time.