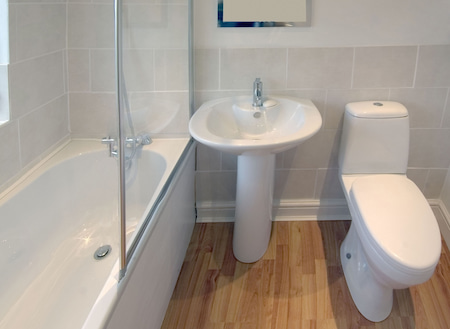 The bathroom of your home is one of the first places you may want to consider remodeling because it can bring you substantial value to your home. Another common area people choose to remodel because of the added value is the kitchen.
A small bathroom in the home can easily be updated and is normally going to be the least expensive to change, which makes it one of the best places to start if you want to update your home.
When you make remodeling plans, it's important that you budget properly for it or you can overspend. Overspending will defeat the purpose of adding value that you hope to recuperate when you sell the home or try to borrow against equity.
When you pay too much for a remodeling job, you're dipping into the profit you may have otherwise gained on the property if it sells. You'll want to be sure you choose fixtures and materials that won't send you over the budget.
The concept of budgeting is overlooked by many people. We tend to have the idea that our home is our home and not an investment, but it is indeed an investment we make. When we buy our homes, the home becomes an asset that we can later sell.
If we sell for more than we paid for it, we not only recuperate costs but can make extra off the deal which is our profit. It's a simple concept to buy something, improve it, and then sell it for more than it was worth when we bought it.
What's confusing is when people buy a home and don't intend to sell it. Many people buy a home and want to live there forever, and don't make plans to stick to a budget when remodeling because their only thought is how they want their space to be.
So at that point, it's easy to see why someone would overspend on remodeling their bathroom with no thought to costs. Whether you plan to ever move or not, a remodeling budget should always be set with the idea of recuperating the cost because one never knows what the economy or other factors may become involved for you to make you need the equity or have to sell the home.
In today's world, change comes fast. Jobs change, cities change, family numbers change, with all possibly making a difference of where you will live or what home you can afford to keep. It's no different for any of us living here in Sonoma County or the Santa Rosa area of California.
Things do change and it's important for us to make sure that we make a profit if we ever need or want to sell our home.
This means we need to make the right choices when we budget a remodeling project, keeping the figure well within a margin for profit. For instance, if your home couldn't possibly sell for more than $10,000 over what you purchased it for, you don't want to spend over 10,000 on your bathroom remodel if you plan to make a profit.
Ask yourself some things when planning your remodeling project:
Will the repair, remodel, or replacement bring value to the home?
How much value will it bring if I remodel?
Will I be dipping into the value of the home because I'm overspending?