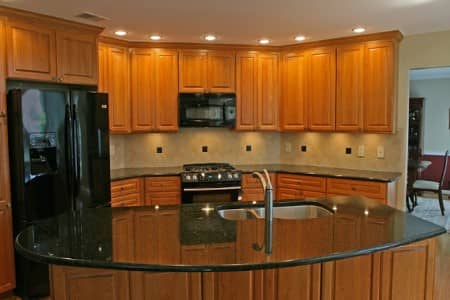 Many Sonoma families find it necessary to consider accessibility in designing their kitchen because of a family member with a disability or because of aging family members who are experiencing some physical limitations. At this time, there is no code of accessible design for residential homes. There are, however, sets of guidelines for various levels of home accessibility. Many of the features needed by persons with disabilities are also attractive and useful to others.
If you want to make your remodeled Sonoma kitchen more accessible, here are some of the basic steps you might take:
-Raise electrical outlets from the standard height of 12 inches to 15 or 18 inches above the floor
-Consider wider hallways and doors (34-36 inches)
-Do not include interior steps
-Color contrast between trim and surface of the floor
-Lever door handles, loop handle pulls on drawers and cabinet doors, touch latches or magnetic latches on cabinets
-Light switches at 36-44 inches above the floor
-Single lever water controls
-Pressure balanced anti-scald valve at sinks
-Space between face of cabinets and walls of 48 inches or more
-Clear knee space under sink
-Adjustable-height work surfaces (28-42 inches)
-Stretches of continuous counter tops for easy sliding of heavy items
-Pantry storage with easy access pull-out or adjustable-height shelves
-Front-mounted controls on appliances
-Cook top with knee space below
-Side-by-side refrigerator to allow easy access to all items
-Built-in oven with knee space beside
-Dishwasher raised on a platform or drawer unit so top rack is level with adjacent counter top
-Crank operated windows
Design help is also available from organizations like the Arthritis Foundation, the MS Foundation, the Parkinson's Foundation and agencies on Aging. These organizations can also help you find architects and certified kitchen designers in Sonoma who have the knowledge and experience to help you make good choices in creating an accessible kitchen. These organizations can also help you find manufacturers who make the appropriate styles of appliances.
The primary considerations in kitchen accessibility are:
1. Space enough open space in the appropriate parts of the kitchen to allow someone to turn a wheelchair or a scooter.
2. Access counter height, appliance design and storage design that is accessible to someone with reaching, bending or standing limitations.
3. Safety think about and plan for alternative ways to do things, such as moving heavy items, reaching across cook tops or ranges, ability to reach needed items from a wheelchair.
With some research and thought you can create an accessible and stylish Sonoma kitchen remodeling design that will be fully accessible and safe for family members with mobility limitations.