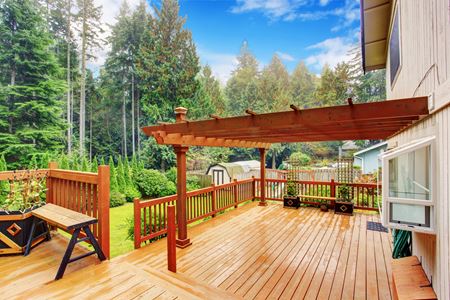 A deck, in the architectural sense, is referred to as the flat surface that is meant to carry or support a certain amount of weight. Therefore, a deck builder assures that the construction of such a floor-like structure that is usually installed outdoors at an elevated spot is sturdy enough to withstand the pressure that will be exerted unto it. Such structures are built outdoors to serve as a link or connection of a building to the outside world.
Planning to Build a Deck
Any great Sonoma deck builder should have a clear plan in mind. A well defined plan will enable you to have a comprehensive guide throughout the process of construction. This will assure you that throughout the process, everything would move forward accordingly with the proper codes, scale, and strength that are necessary.
A deck builder is not necessarily a professional. Thus, it follows that planning can be done by simply drawing sketches. In the process of planning, do not forget to acquire the necessary permits needed beforehand so that no problem will be encountered.
As a rule of thumb, if you want to succeed as a deck builder, you should have a good plan. The quality of the plan required should be inversely proportional to the amount of experience you have in deck building. You will realize the fact that you cannot have anything to stand in the place of a good plan once you proceed with the deck building sans the supervision of a professional.
Common Issues in Sonoma Deck Building
Decks are especially useful for a number of reasons improving the landscape, extending the house area, and as an alternative to stones. The following are some issues that you might encounter in deck building:
Deck layout in connection with the layout of the house: One should carefully consider the existing design of the house when building a deck outdoors. In addition, the deck should not in any way be a hindrance to the access points within the house. You should also consider the existence of plants and trees.
The issue of attachment: Should a Sonoma deck builder connect the deck to the actual house structure? The answer is actually up to you. Remember that decks can actually stand alone without attaching the decks to the structure.
The number of posts that should be installed depends on how large the deck is. Engineering principles dictate, as the deck becomes bigger, it will require more posts and footings as support.
There are other issues that you might encounter. Though an expert's opinion is not always required, it might be helpful to consult them from time to time for best results.